Consumers aren't the only ones frustrated with the lightning pace of computer innovations. By the time you figure out your computer, it's obsolete.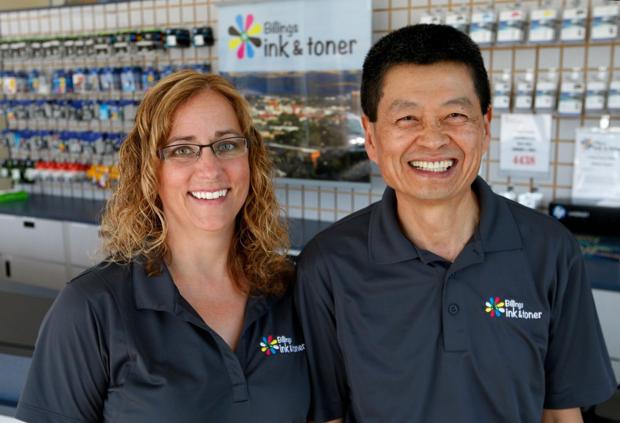 And, the cost of brand-name printer ink puts it among the most expensive liquids on Earth.
Selena Wang feels your pain.
She runs Billings Ink & Toner and can save you a bundle on replacing and refilling printer ink cartridges.
That turns out to be the easy part. Keeping up with the rapid changes in the industry takes constant vigilance.
"We do a lot of the research ourselves to stay informed to help out our customers," Wang said. "We also stay in close contact with our suppliers. They are a great source of knowledge for us."
Billings Ink & Toner is at 3210 Henesta Drive, Suite K, in Billings and may be reached at 652-1589.
Here's what else Wang had to say about using her experience in the business to open her own store:
Nature of the business:
Printer supply store, ink and toners sold new and refilled.
Why start this business?
My husband and I have more than 10 years experience in the ink and toner business. When the owner of the ink and toner franchise at 32nd West and King Avenue retired, we decided to continue doing what we know how to do. We also wanted to continue to help customers with printer repair service, printer recommendations and recycling of old ink and toner cartridges.
Where did start-up funding come from?
Our own personal investments.
Biggest challenges in running the business?
The confusion that we no longer work for a franchise. After 10 years of customers dealing with the same people in the same location, confusion is bound to happen. We have a new name and phone number but the same people, products and services the people in Billings have come to trust.
The other ongoing challenge is keeping up with the rapid and ever-changing technology in this industry. New printers are always coming out, and the cartridges change as well. This leaves many people frustrated when they can't find the right cartridges.
What was done to overcome those challenges?
As far as the new business name and phone number goes, we have tackled this challenge in a variety of ways. These include new signage and fresh designs on our delivery vehicle. We have made great use of social media with Facebook being the biggest. The Internet connections are being made through our web page, Google, Yelp and Linkedin.
What is being done to expand the business?
Currently we are advertising in traditional ways such as TV and The Billings Gazette. Also, it bears repeating that we have done a lot with the Internet and social media. We are doing business-to-business visits, leaving information for consumers to inform them who we are and what we do. No one likes pushy sales people. We are also planning to participate in some community events within the next year.
Your best business decisions?
Focusing on excellent customer service. While Billings may be the biggest city in Montana, it is still community-minded enough that repeat customers and word-of-mouth mean everything. We value our relationships with both business and individuals. Our services include free pickup and delivery to area businesses and recycling of old ink and toner cartridges. Finally, we make printer recommendations for our customers. Since we do not sell printers, these are recommendations are based only on the customer's needs and preferences. We do the research so the customer does not have to.
What advice do you have for someone running a business?
Honesty and integrity will take you further than a quick sell of product or service. So remember, building long-term relationships with your customers will make you a value to them, not just someone who wants to sell something. Treat your employees the way you want to be treated. Work with your employees instead of just giving orders. Don't give up!